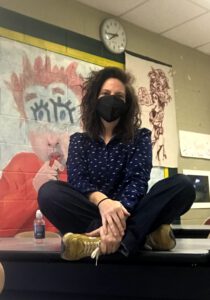 Briena Harmening resides and works in Nashville, Tennessee. She is a 2010 MFA graduate from the University of Tennessee and currently teaches Art and the AP program at Hillwood High School.
Artist Statement
I was once told, I wasn't a good writer, later I was a writer not a painter.  All I want is to figure out how to do both.  Probably stemming from my thick southern accent, rural upbringing, and my love for story telling.  I have always been drawn to language and words. Meanings, communication, dialect, even how we read, fascinates me. For years, I have sought to intertwine art with words.  The phrases, jokes, fragments, and excerpts – are mostly autobiographical and document my thoughts about life, loss, and love, while others are from memories or snippets of conversations taken out of context. Over the years, I have experimented with painting, fiber, sculpture, video, and screen printing, to address various autobiographical text.
For good measure, I have included some other work as well.